Flight Simulator X Google Earth Tracker
FSXGET
Summary | Comments & Feedback | Links & Download
History | Gallery
Show Flight Simulator X aircrafts and ground objects in Google Earth! Live!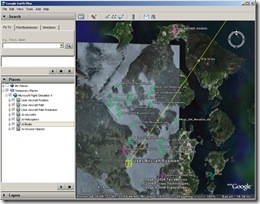 FSXGET is a tiny tool that allows Google Earth to display live simulation data from Flight Simulator X, e.g. your aircraft's position, path flown, course prediction or any AI aircrafts, boats or ground vehicles. Together with the aircrafts' positions, Google Earth will also display further information for each object such as ATC data, altitude, aircraft model, call signs, …
The program can run on the same computer as Flight Simulator X and Google Earth or on any other computer and connect to FSX and Google Earth via network. A tool called SimConnect Config Tool will help setting up networked mode.
FSXGET and the SimConnect Config Tool are both open source and being hosted on CodePlex.
You're welcome to post any comments, suggestions, bugs or errors on this page here or you can use the
discussion page
on
CodePlex
for that.
In any way, I'd really like to here your feedback on the program! Really!

FSXGET is a tiny tool I've started developing when Flight Simulator X came out. It's intention was to show you aircraft's position in Google Earth in real-time. Nevertheless, during development many many more ideas kept coming to my mind and I started implementing quite a few of them. Thus, at the moment, the tool doesn't only allow you to show your own plane's position in Google Earth but also any AI vehicles such as aircrafts, helicopters, boats and ground vehicles. Furthermore you can record and display the path you flew as well as course predictions and ETA points for your own or any AI aircraft / vehicle. Flight information like ATC data, altitude, aircraft model and call sign can be displayed, too.
When I realized that I couldn't go on spending the necessary time on the programming of this tool, I finally published the application as open source on CodePlex. Thus anyone can download, read and modify the source code to his likings.
Besides the source code, all formerly released versions as well as current and future versions are / will be available on the CodePlex project page for download. Additionally, CodePlex provides a discussion page and a bug tracking and feature proposal system.
Although I can't spend as much time as I'd like to spend on FSXGET, I still have quite a few features in the pipeline (some of them thanks to great user feedback) which I'd like to add to the tool and I will continue to work on the program, probably at quite a low pace. After having recently published a Windows Vista compatible version of the tool and adding remote connection features to allow the tool to be run a computer different from the one running Flight Simulator, I'm currently trying to rebuild the tool from scratch to improve the code structure, maintainability and the user interface. This will probably take some time but is definitely necessary before continuing to add new features.
In any way, I'd be happy if you kept trying and testing the tool and especially if you kept on giving me feedbacks on any problems, bugs or missing features. Feel free to post comments on this site or use the CodePlex discussion site to do so. You can also email me at juergen@fsxget.com.